Tuam Home Survivors Network consists of survivors, family members and advocates who seek to inform and obtain a factual representation of this dark period in our recent history. We seek to encourage and enable survivors and those affected, to speak and record their experiences so that we can present a true, factual first-hand testimonial based account that is accessible to all.
"Survivors helping Survivors"
Our mission is to support survivors of Mother and Baby Homes by offering solidarity and friendship through a peer-supportive network to enable them to speak candidly of their experiences. Assisted by advocates, we work jointly to ensure that no survivor, regardless of length of stay or experience in such Institution is left behind – and that their place, central to the process of recognition, is guaranteed at all times.
---
Remembrance Day for Ireland's Lost Children
Saturday 29th, September 2018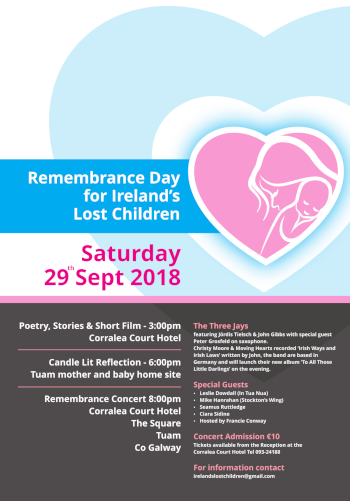 Click here to view a larger version of the poster
The Three Jays featuring Jordis Tielsch & John Gibbs with special guest Peter Grosfeld on saxophone.
Christy Moore & Moving Hearts recorded 'Irish Ways and Irish Laws' written by John, the band are based in Germany and will launch their new album 'To All Those Little Darlings' on the evening.
Special Guests
Leslie Dowdall (In Tua Nua)
Mike Hanrahan (Stockton's Wing)
Seamus Ruttledge
Ciara Sidine
Hosted by Francie Conway
Concert Admission €10 Tickets available from the Reception at the Corralea Court Hotel Tel 093-24188. For information contact This email address is being protected from spambots. You need JavaScript enabled to view it..
Please note this is not a fundraising event but an awareness event run by singer/songwriter Francie Conway and John Gibbs. We appreciate their efforts to increase awareness and acknowledgement of the survivors of the Tuam Mother and Baby home and the babies who didn't survive.