Tuam Home Survivors Network consists of survivors, family members and advocates who seek to inform and obtain a factual representation of this dark period in our recent history. We seek to encourage and enable survivors and those affected, to speak and record their experiences so that we can present a true, factual first-hand testimonial based account that is accessible to all.
"Survivors helping Survivors"
Our mission is to support survivors of Mother and Baby Homes by offering solidarity and friendship through a peer-supportive network to enable them to speak candidly of their experiences. Assisted by advocates, we work jointly to ensure that no survivor, regardless of length of stay or experience in such Institution is left behind – and that their place, central to the process of recognition, is guaranteed at all times.
---
The so-called Commission of Investigation is now exposed as what we have always known it to be, a shallow dishonest exercise in suppressing the truth.
There can be no Justice without redress for survivors and that redress must be paid for by Religious Orders who have harvested enormous wealth by inflicting misery and death on the most vulnerable in our society.
There can be no Justice without an Inquest into the dead of Tuam. They died horribly and unnecessarily. They had no life as children. The State owes them the dignity of an Inquest and a Death Certificate that truly shows why they died.
There can be no more betrayals of our dead children.
Chapter by chapter we will in the coming weeks publish what we have discovered over the last almost eight years. Today we begin with "The Hidden History of Tuam".
Our fight has not ended, it has barely begun. We have so far relied entirely on our own meagre resources. We would be grateful if even in these difficult times, you can give some small support to our campaign. We begin again today.
Thank you,
Peter Mulryan
https://www.gofundme.com/f/Justice-for-the-Tuam-Babies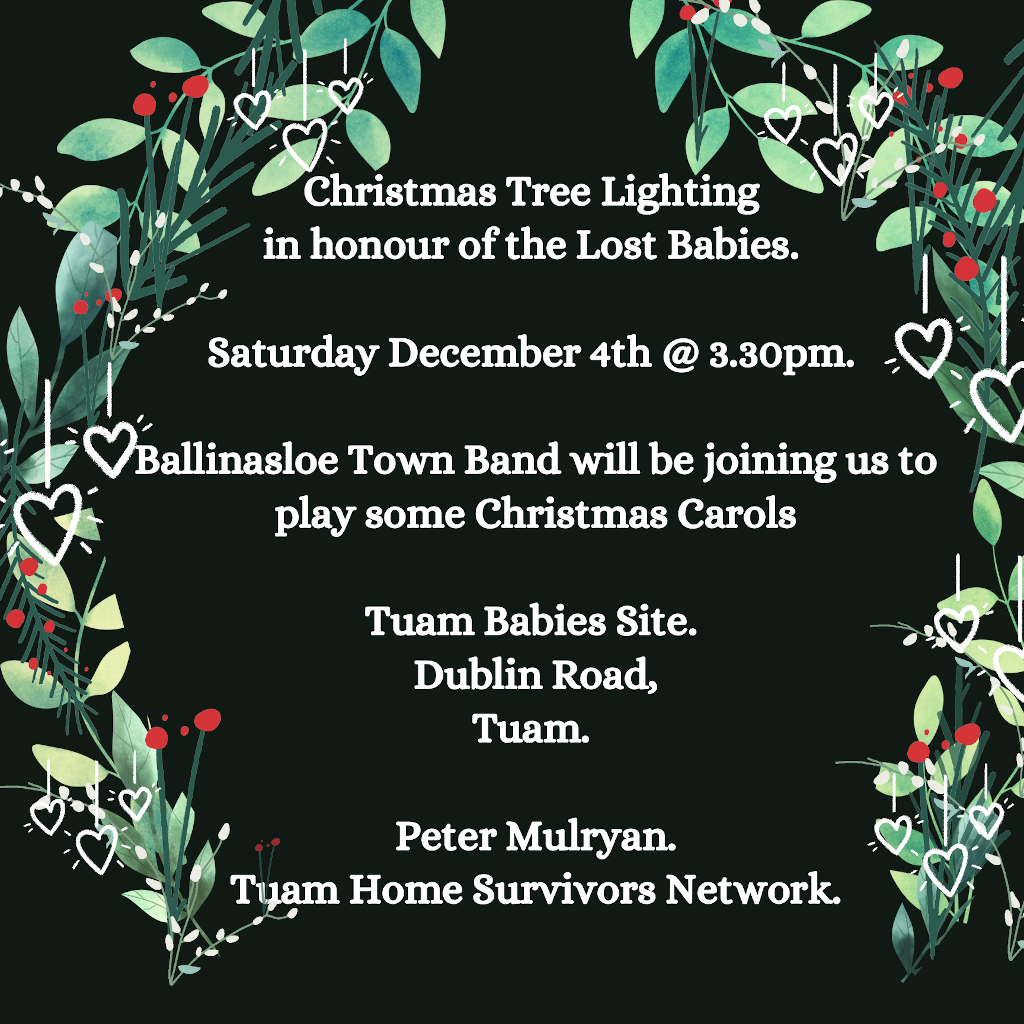 Please join us to turn on the Christmas tree lights at 3.30pm on Saturday December 4th 2021 at the Tuam Mother & Baby Institution site.
Christmas is a time for families and remembering those that are absent from our lives. The babies/children and mothers that are in the sewage pit and also the babies that are in the grounds of the Grove Hospital never got a chance to be part of a family. Let us be their family and acknowledge them. They have no voice only our voice. Let us stand together and reflect on those babies/children and mothers that didn't make it through and to stand in solidarity with all survivors of all institutions who continue to be haunted by the trauma they endured.
I would very much appreciate if you could invite your friends and family. I hope that as many survivors of these institutions, their families, friends and members of the public can make it to this Christmas gathering. If anyone would like to hang a remembrance token on the Christmas they are welcome to do so.
Please remember to share our event on social media to spread the word.