Our mission is to support survivors of Mother and Baby Homes by offering solidarity and friendship through a peer-supportive network to enable them to speak candidly of their experiences. Assisted by advocates, we work jointly to ensure that no survivor, regardless of length of stay or experience in such Institution is left behind – and that their place, central to the process of recognition, is guaranteed at all times.
Peter Mulryan is our Chairperson and has spoken extensively on the issue and is known internationally for speaking candidly on his experiences where he courageously admits the pain he endured While taking a case through the Courts in order to seek the file which contains information relating to his sister, Marian Bridget, Peter has won applause at home and abroad. Now in his seventies, Peter is a former resident of the Tuam Mother and Baby Home where he spent the first four and a half years of his life.
Amanda Larkin is our Vice Chair. Amanda is the daughter of a survivor, Carmel and shares her own experiences and perspectives to us. She has on many occasions, including at forums with Minister Zappone shown strength of character and ability in reflecting views and holding power to account on behalf of survivors.
Breeda Murphy is our Group Secretary. A post grad in the area of human rights and psychology, Breeda has worked with groups experiencing social exclusion. She observes that information is key to unlocking this dark chapter of our history, from stakeholders who continue to hold power, both Government and Religious Orders to whom the children's care was entrusted.
Ann O'Flaherty is our Group Treasurer. Married to Michael, a former resident of Tuam Mother and Baby Home, Ann worked in the area of Accounting all her working life and is now happily retired. Michael and Ann live in Dublin and travel to attend our meetings and contribute enormously to our success.
Sadie Cramer is our Group Facilitator. Sadie organised the well attended Memorial Day and Exhibition in Tuam Town Hall last November 2nd, all Souls Day. She has a rare gift of extracting the best from people. The Memorial walk from the site of incarceration to the Town Hall is memorable on many levels, more particularly due to the impact on the community locally who provided tangible support as we made our candlelit vigil through the town.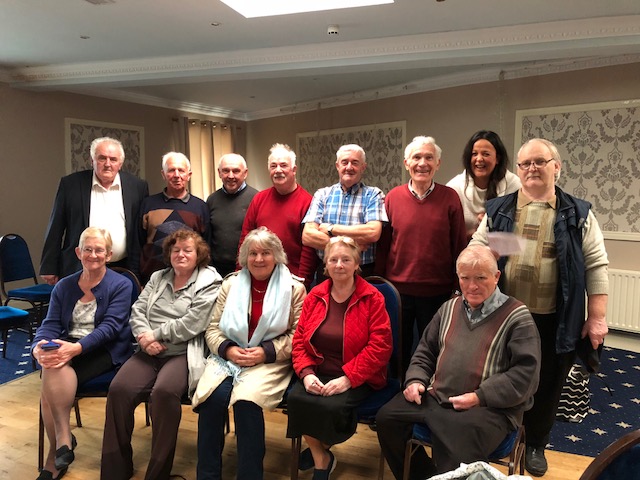 Tuam Home Survivors Network
Back row L-R. Tom Ward. Walter Francis, P.J Haverty, Pat Duffy, Michael O Flaherty, Peter Mulryan (Chairperson), Sadie Cramer, Pat McDonagh.
Front Row L-R. Ann O Flaherty (Treasurer), Christine Golden, Carmel Larkin, Michael Ryan.
Some members are missing from the photograph and will be updated soon.